Swiss Organic Wines and Wine Tasting
Since 2017, it's ORGANIC at Guillod!
The history of Cave Guillod begins in Praz-Vully in 1931.
Cédric now works respecting the terroir with organic farming methods .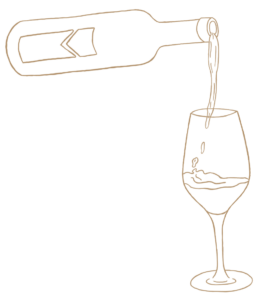 Swiss organic wines
Discover the precious nectars of Cave Guillod, where winemaking tradition harmoniously blends with a commitment to organic agriculture. Nestled in the rich and generous terroir, Cave Guillod cultivates a varied range of grape varieties, creating organic wines that are an ode to nature.
The organic wines from Cave Guillod are not just a taste experience, they are a celebration of the harmony between the earth and mankind. Let yourself be seduced by the aromatic complexity and exquisite freshness of these wines that tell the story of a craftsmanship passed down through generations.

Discover Céleste, a heavenly blend of Pinot Gris and Chasselas. Sporting a slightly orange-yellow hue, this wine unveils an enchanting bouquet of white flowers, pear, lychee, and lemon. On the palate, its straightforward, tonic, and lively character blends beautifully with a fine delicacy and perfect balance, leaving a pleasant persistent length with lemony and mineral notes in the finish.
The food-wine pairings range from grilled seafood to herb-roasted chicken, including fresh goat cheese, a summer vegetable quinoa salad, and even a pear and Roquefort tart. To fully appreciate its nuances, serve Céleste chilled, at an ideal temperature of 8 to 10°C, thus revealing all its aromatic richness without wrapping it in cold. A heavenly tasting experience awaits you.
The Merlot from Vully stands out for its delicate aromas of red fruits, such as raspberry and cherry, complemented by subtle notes of sweet spices and chocolate. Thanks to Vully's unique climate, this wine develops a finesse and elegance that are all its own, while retaining the roundness and suppleness characteristic of Merlot.
The limited production and meticulous attention to every step of the winemaking process make the Merlot from Vully an exceptional wine, sought after by connoisseurs and lovers of fine wines. Whether enjoyed as an aperitif or to accompany delicate dishes, it will captivate with its complexity and unique character.
Celebrating the perfect alliance between the Swiss terroir and the nobility of the Merlot grape variety, the Merlot from Vully (AOC Vully) is an invitation to discover the viticultural riches of Switzerland.
Discover the quintessence of Pinot Noir, this iconic grape variety that has conquered the world with its subtlety. With its shimmering ruby robe, it awakens your senses with intoxicating aromas of tangy black fruits such as blackberry and cherry, as well as red fruits like raspberry and strawberry. On the palate, it will surprise you with its texture that is both supple and rich, revealing unmatched freshness and fruity nuances. Each sip promises finesse, unveiling an elegant, delightful wine with remarkable length.
Our Sauvignon Blanc, passionately cultivated in Swiss vineyards, is an exceptional taste experience. With its subtle aromas of citrus and boxwood, this organic wine is distinguished by its finesse and elegance. Its slightly orangey yellow color and enchanting nose of white flowers, pear, lychee and lemon make it a perfect choice.
Pair it with your favorite dishes: oysters, chicken with lemon and thyme, goat's cheese, shrimp salad with avocado, or grilled asparagus.
Served between 7 and 9°C, this organic Swiss Sauvignon Blanc will reveal all its freshness and fruity aromas.
Experience Cave Guillod's Sauvignon Blanc Suisse Bio and let yourself be charmed by the exceptional quality of this wine. Order yours now!
Discover Traminer du Vully, an exceptionally elegant dry white wine made from the ancient, aromatic Savagnin rose grape variety. Its golden colour reveals an aromatic bouquet rich in exotic notes of lychee and rose petals, evoking a captivating sensory journey. On the palate, the fusion between the sweet freshness of lychee, the delicacy of rose petals and the spicy nuances of yellow curry creates a harmonious complexity, while the lingering finish leaves an impression of refinement and purity. This wine pairs beautifully with a variety of dishes, such as spicy chicken curry, full-bodied blue cheese, apple pie or spicy Asian dishes.
For the best experience, serve Traminer du Vully slightly warmer than classic white wines, at a temperature of 10 to 12°C, to reveal the full depth of its aromas. For gourmets who enjoy meringues with double cream, a serving temperature of 5 to 7°C will magnify its characteristics even more. Immerse yourself in a taste adventure rich in nuance and elegance with Traminer du Vully, a declaration of tradition and quality.
The different wines
Discover wines according to their category

What our customers say about us

The News
Read all the news from Cave Guillod

"Welcome to Cave Guillod, where every drop of our wine embodies the very essence of Swiss purity and excellence. Located in the heart of Praz-Vully, our winery continues a rich and authentic winemaking tradition that began in 1931.
A Legacy of Quality
The history of Cave Guillod is a story of passion and devotion to the Swiss terroir. Founded on values of quality and authenticity, our winery is the fruit of expertise passed down through generations.
Innovation and Respect for the Terroir
Cédric Guillod, guardian of this tradition, has ushered in a new era in our history. Since 2017, we have committed to organic farming, respectful of our environment and our vineyards. This transition to organic agriculture is not just a choice, it's a tribute to the land that nourishes our vines.
Our Swiss Organic Wines: An Invitation to Discovery
Come discover our exclusive selection of Swiss organic wines. Each bottle reflects our commitment to quality and authenticity. Let yourself be transported by unique flavors, delicate aromas, and the finesse of our wines, crafted with care and respect for nature.
Tastings and Unique Experiences
We invite our visitors to tastings where you can appreciate the richness and diversity of our wines. Live an unforgettable experience, immerse yourself in the world of Swiss organic viticulture, and share our passion for wine.